This CS philosophy is shared throughout the international terminal and is sought to be attained by staff who undertake their duties with the awareness that they are all concierges.
CS Basic Policies

CS (Customer Satisfaction), ES (Employee Satisfaction), SS (Stake-holder Satisfaction)
We will constantly pursue satisfaction in all these areas.

CS Slogan
Making Haneda more convenient, friendly and attractive.
Our CS Slogan does not stop at merely offering standard service. Rather, it expresses our commitment to providing high-quality service beyond our customers' expectations.

Diversity is of paramount importance to Haneda.Just as the Japanese language is made up of diverse elements, so is our society and our customer base. To satisfy the needs of this diverse customer base, we must offer an equally diverse range of advantages: greater convenience, friendliness and attraction. Each of these makes up the core of customer satisfaction at the international terminal at Haneda.

This represents our desire to offer services tailored to the needs of individual customers.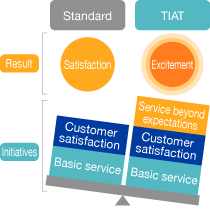 CS Awareness
With kindness and gratitude
Our CS initiatives are implemented with the goal, not of "making" our customers satisfied , but of leaving them "feeling" satisfied .
Actions for achieving this begin with awareness.
CS Pledge of Action

Action relating "safety"
Actions relating to "CS"
Actions relating to "ES"
Action relating to "terminal environment"
This pledge of action will be used on a daily basis as a guideline to help employees as well as groups and organizations working in the terminal to think about how they should act on their own accord.