Giving All Passengers Peace of Mind When Traveling
Dedicated to Universal Design
Tokyo International Air Terminal offers a barrier-free, user-friendly experience for all travelers. The Universal Design Committee has gone to great lengths, drawing from a wide array of experts to accommodate everyone. Employees receive training and workshops to better help visitors and give universal access. Experts continue improving the airport and making changes in response to interviews and expert opinions while experimenting with new ideas. Universal access is reflected in every aspect of the International Air Terminal from planning to building and operations.
Restrooms and Multipurpose Restrooms
Standard restroom facilities offer a more spacious environment, and accessible restrooms accommodate those with physical challenges or parents of infants.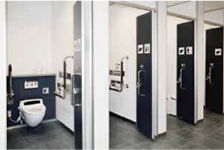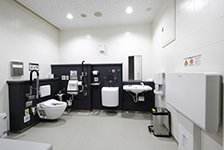 Japan Restroom Award

Tokyo International Air Terminal also received the Japan Restroom Award from the Minister of Land, Infrastructure, Transport, and Tourism.
Universal Design Passenger Boarding Bridge
Tokyo International Air Terminal became the first airport to use a step-free passenger boarding bridge, offering travelers in wheelchairs a smooth passage to and from the airplane.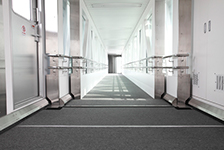 Level Luggage Check
At Tokyo Haneda, luggage can easily be rolled onto the luggage check, rather than lifting it onto a platform.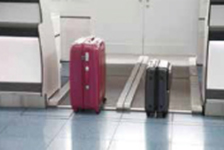 Flight Information Boards
Flight information boards provide easier-to-read, larger lettering, making use of colors and high contrast.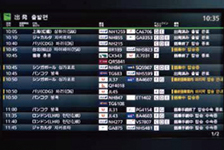 Elevator
Elevator doors open to the width of the car, offering easy entrance and exit.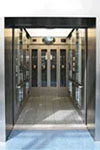 Emergency assistance button for hearing impaired passengers on elevator
In addition to regular emergency buttons, elevators in the terminal are equipped with emergency assistance button for hearing impaired passengers on elevator. In emergency situations, these buttons let people outside the elevator know that there are hearing-impaired passengers inside.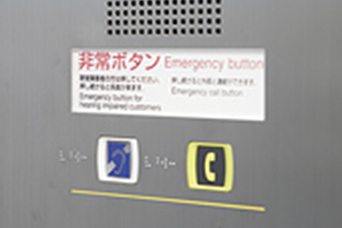 Luggage Carts and Mini Carts
Mini carts at the departure and arrival gates and luggage carts at various places throughout the airport are free to use.
Note: Use of luggage carts on escalators is prohibited.
Creating a Better Airport
Assistance Services by Concierge
Five information counters, a telephone center, and locations throughout the terminal. The concierge service is available around the clock, offering information and assistance, including escorting travelers safely from access transportation. Our concierges have training and qualifications for special needs assistance and can offer everyone a little bit of help when it's needed.
Look for the turquoise uniforms when you need assistance. There are concierge phones available in the parking areas and on the taxi platforms throughout the terminal.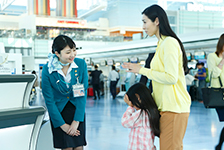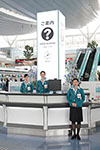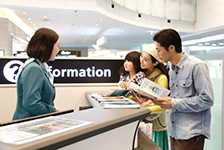 Assistance Service Wheelchair with Uniform Specifications
Not only do we help travelers with physical challenges, but Tokyo Haneda International also offers wheelchairs with uniform specifications, which can easily be taken directly onto aircraft.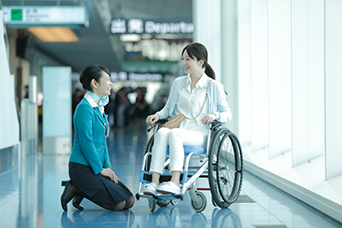 Passenger Carts
Free transportation along arrival and departure concourses for anyone to use.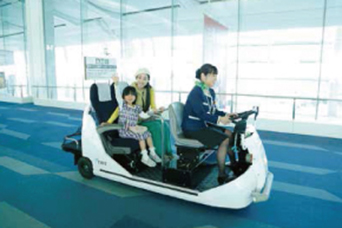 Communication Support Boards and Message Boards
Communication boards help passengers with hearing or speaking challenges communicate with airport staff.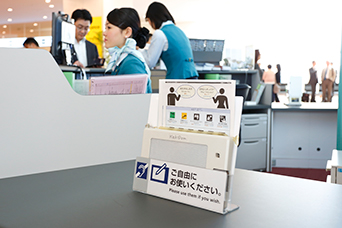 Assistance Dog Restrooms
Dedicated indoor restrooms for assistance dogs are available in the first-floor terminal. Please contact a concierge, and they will guide you to them.